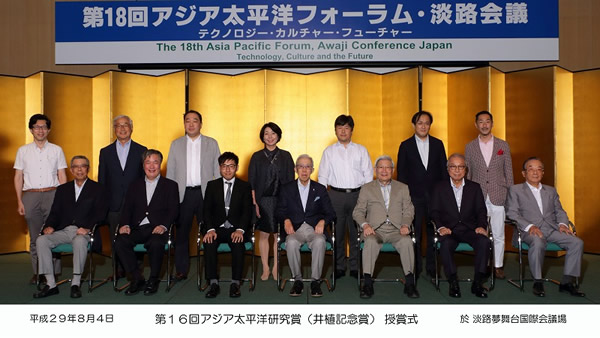 Overview of the Prize and Flow to the Awards Ceremony
The Asia Pacific Research Prize (Iue Prize) was established in 2001 to acknowledge outstanding dissertations written in the field of humanities or social sciences about the Asia Pacific region. The dissertations are written by Japanese and overseas students who have completed post-graduate studies and received doctorates from Japanese graduate schools. This year, we invited students who received doctorates after March 2014 to enter the prize. This definition does include students who withdrew from a course having completed the coursework after March 2014 and received doctorates afterward. As a result of the strict selection process conducted by the Selection Committee on the theses recommended and gathered from graduate schools all over Japan, Dr. Hayato Yukawa's dissertation, "US-Japan Relations in the 1930s: The Role of the Ministry of Foreign Affairs in the Pursuit of New Order in East Asia" was selected as a Commendation.
Overview of the Awards Ceremony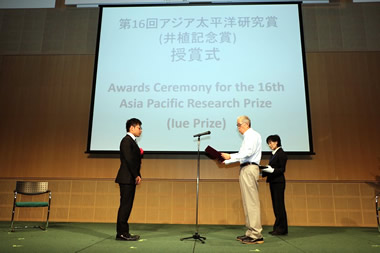 At the Awards Ceremony on August 4 2017, the prize was bestowed on a winner, Dr. Hayato Yukawa by Awaji Conference Representative Director Satoshi Iue (Representative Honorary Member, SANYO Electric Co., Ltd). Dr. Yukawa received an award certificate and commemorative present for honorable mention. After the reasons for the selection were explained by the Selection Committee Chairman Yutaka Katayama (Professor Emeritus, Kobe University), the winner gave a speech.