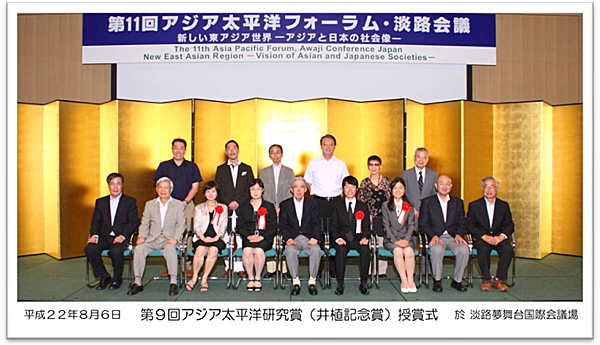 Overview of the Prize and Flow to the Prize Giving Ceremony
With the Asia Pacific Forum, Awaji Conference Japan, the Asia Pacific Research Prize was established in 2001 to reward superior doctoral dissertations on humanities and social sciences pertaining to the Asia-Pacific area written by Japanese and international students studying at graduate schools in Japan.
The winners of the Ninth Asia Pacific Research Prize (Iue Prize) are selected after strict examination by the selection committee. The prize giving ceremony coincides with the holding of the Awaji Conference on Friday, August 6, 2010.
Overview of the Prize Giving Ceremony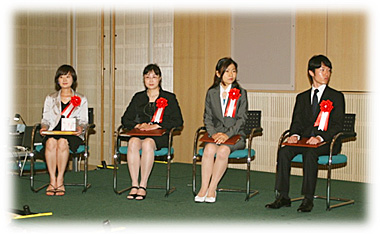 At the prize giving Ceremony, the prize was bestowed on winners Dr. Shingo Yoshida, Dr. Junko Yano and Dr. Yl Ping by Awaji Conference representative director Satoshi Iue (Representative Honorary Member, SANYO Electric Co., Ltd.). The winners received an award certificate and 1 million yen prize; Dr. Youn Soo Cho received an award certificate and commemorative present for honorable mention. After the reasons for the selections were explained by the Selection Committee Chairman Makoto Iokibe (President of the National Defense Academy of Japan and Professor Emeritus of Kobe University), each of the winners gave a speech.